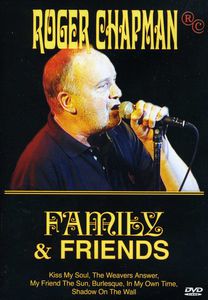 Family and Friends [Import]
(England - Import)
Udgivelse

29-08-2006

Film og TV Genre

Rock, Music Video (Concert/Performance)

Media Format

DVD

DVD-område

0

Vær opmærksom på. Medmindre andet er angivet, alle BLU-RAY er REGION A og alle DVD er REGION 1 kodning. Før du køber, Sørg for at dit udstyr kan afspille disse regioner. Klik på linket nedenfor for mere information om regionen kodning:
Produkt noter
NTSC Region 0. 19 tracks. (three bonus not on original video release). Roger was the lead singer/songwriter with British Blus/Rock legends Family. In the '60s and '70s, they had missive success and toured for over 15 years. Chapman now in his 60's is till touring. Here on this DVD sees him perform in 2000 at the Newcastle Opera house with his band Short Set. Bonus tracks feature Family history and interviews Chapman and his beloved fans. Angel Air.