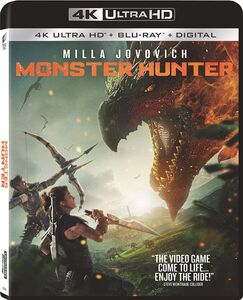 Preview
Monster Hunter
(4K Mastering, With Blu-ray, 2 Pack, Digital Copy)
Udgivelse

02-03-2021

Film og TV Genre

Action / Adventure, Action-Fantasy

Media Format

4K Ultra HD

Vær opmærksom på. Medmindre andet er angivet, alle BLU-RAY er REGION A og alle DVD er REGION 1 kodning. Før du køber, Sørg for at dit udstyr kan afspille disse regioner. Klik på linket nedenfor for mere information om regionen kodning:
Produkt noter
U.S. Army Ranger Capt. Natalie Artemis (Milla Jovovich) was supposed to be leading an exercise for a UN military force when an interdimensional rift opened-and deposited them into a desert world populated by massive mutated creatures. Their sole hope for finding a way home-or living long enough to do so-lies with the skilled local warrior (Tony Jaa) they pact with for survival. Wheelhouse videogame adaptation from Paul W.S. Anderson co-stars T.I., Meagan Good, Diego Boneta, Ron Perlman. 99 min. Widescreen; Soundtrack: English. Two-disc set.