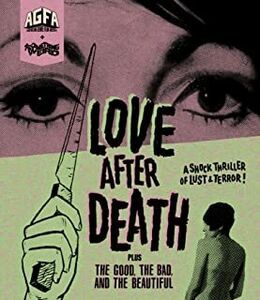 Love After Death / The Good, The Bad and the Beautiful
Udgivelse

25-05-2021

Film og TV Genre

Drama

Media Format

Blu-ray

Vær opmærksom på. Medmindre andet er angivet, alle BLU-RAY er REGION A og alle DVD er REGION 1 kodning. Før du køber, Sørg for at dit udstyr kan afspille disse regioner. Klik på linket nedenfor for mere information om regionen kodning:
Produkt noter
An interdimensional portal exists between Herk Harvey's CARNIVAL OF SOULS and Doris Wishman's BAD GIRLS GO TO HELL... and it's called LOVE AFTER DEATH. This is the story of Montel - a sexually frustrated creep who seeks revenge on his cheating wife after she accidentally buries him alive. Produced somewhere in South America and remixed for American audiences by New York producer Charles Abrams, LOVE AFTER DEATH is a joyously deranged gem that features equal doses of gothic horror, sleazy melodrama, and absurdist experimentation. After watching this movie, you'll never look at Edgar Allan Poe's "The Premature Burial" the same way again. Shot in New York by LOVE AFTER DEATH producer Charles Abrams and starring adult film princess Jennifer Welles, THE GOOD, THE BAD, AND THE BEAUTIFUL is an unknown jewel from the bizarro underground. The movie centers around the estate of a politician, where blackmail and scissor-murders go hand in hand with smoking weed and fetish whippings. Combining a trashy paperback feel with gutter-goth mood, this psychosexual spectacle would feel right at home with the work of exploitation auteur Joe Sarno.
Beskrivelse
| | |
| --- | --- |
| Titel: | Love After Death / The Good, The Bad and the Beautiful |
| Genre: | Drama |
| Stjernespækket: | Jennifer Welles |
| Studio: | American Genre Film |
| Udgivelsesdato: | 25-05-2021 |
| Media Format: | Blu-ray |
| Bedømmelse: | NR |
| UPC: | 814456023298 |
| Oprindelige sprog: | ENG |
| Løbe tid: | 154 minutes |
| Udgivelsesår: | 1968 |