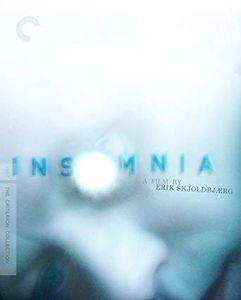 Insomnia (Criterion Collection)
Udgivelse

27-08-2019

Film og TV Genre

Mystery / Suspense

Media Format

Blu-ray

Vær opmærksom på. Medmindre andet er angivet, alle BLU-RAY er REGION A og alle DVD er REGION 1 kodning. Før du køber, Sørg for at dit udstyr kan afspille disse regioner. Klik på linket nedenfor for mere information om regionen kodning:
Produkt noter
Sent to investigate a woman's brutal murder in a remote town in Northern Norway, a Swedish detective haunted by his past makes a mistake that leads to death and a desperate attempt to hide the truth. Director Erik Skjoldbjaerg's compelling thriller, set against the relentless light of the Arctic summer, stars Stellan Skarsgård, Sverre Anker Ousdal, and Maria Bonnevie. 97 min. Widescreen (Enhanced); Soundtrack: Norwegian and Swedish DTS HD stereo Master Audio; Subtitles: English; interview; theatrical trailer; TV spot. In Norwegian and Swedish with English subtitles.