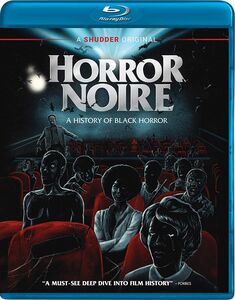 Preview
Horror Noire: A History of Black Horror
Udgivelse

02-02-2021

Film og TV Genre

Horror, Special Interest-Documentary

Theme

Shudder

Media Format

Blu-ray

Vær opmærksom på. Medmindre andet er angivet, alle BLU-RAY er REGION A og alle DVD er REGION 1 kodning. Før du køber, Sørg for at dit udstyr kan afspille disse regioner. Klik på linket nedenfor for mere information om regionen kodning:
Produkt noter
The various intersections between African-American history and the evolution of the Hollywood horror film receive a fascinating examination in this documentary. From '70s Blaxploitation to the first-to-die tropes of the '80s and '90s to the positive representations and political allegories of the modern era, perspectives from genre icons-before the camera (Tony Todd, Ken Foree, Rachel True) and behind (Jordan Peele, Rusty Cundieff, Ernest Dickerson)-and more are offered. 83 min. Widescreen; Soundtrack: English.