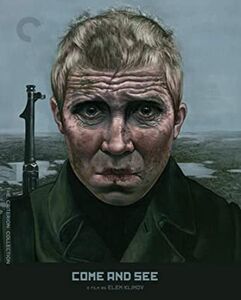 Preview
Come and See (Criterion Collection)
(Special Edition, Restored, Widescreen, Subtitled)
Udgivelse

30-06-2020

Film og TV Genre

Drama, Foreign-Russian

Media Format

Blu-ray

Vær opmærksom på. Medmindre andet er angivet, alle BLU-RAY er REGION A og alle DVD er REGION 1 kodning. Før du køber, Sørg for at dit udstyr kan afspille disse regioner. Klik på linket nedenfor for mere information om regionen kodning:
Produkt noter
This legendary film from Soviet director Elem Klimov is a senses-shattering plunge into the dehumanizing horrors of war. As Nazi forces encroach on his small village in Belorussia, teenage Flyora (Alexei Kravchenko, in a searing depiction of anguish) eagerly joins the Soviet resistance. Rather than the adventure and glory he envisioned, what he finds is a waking nightmare of unimaginable carnage and cruelty rendered with a feverish, otherworldly intensity by Klimov's subjective camera work and expressionistic sound design. Nearly blocked from being made by Soviet censors, who took seven years to approve it's script, Come and See is perhaps the most visceral, impossible-to-forget antiwar film ever made.
Beskrivelse
| | |
| --- | --- |
| Titel: | Come and See (Criterion Collection) |
| Genre: | Drama, Foreign-Russian |
| Stjernespækket: | Liubomiras Lauciavicius, Alexei Kravchenko, Aleksei Kravchenko, Olga Mironova, Liubomiras Laucevicius, Vladas Bagdonas, Viktor Lorents, J Lumiste, K Rabetsky, E Tilicheyev |
| Direktør: | Elem Klimov |
| Studio: | Criterion |
| Attributter: | Special Edition, Restored, Widescreen, Subtitled |
| Udgivelsesdato: | 30-06-2020 |
| Media Format: | Blu-ray |
| Bedømmelse: | NR |
| UPC: | 715515247719 |
| Oprindelige sprog: | BUL, GER, RUS |
| Undertekster: | ENG |
| Løbe tid: | 143 minutes |
| Udgivelsesår: | 1985 |