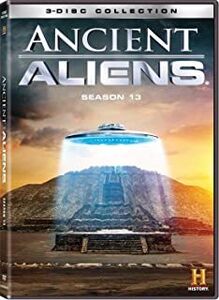 Ancient Aliens: Season 13
(Widescreen, Dolby, 3 Pack, Subtitled)
Udgivelse

13-04-2021

Film og TV Genre

Special Interest-Documentary, TV Sci-Fi

Media Format

DVD

Vær opmærksom på. Medmindre andet er angivet, alle BLU-RAY er REGION A og alle DVD er REGION 1 kodning. Før du køber, Sørg for at dit udstyr kan afspille disse regioner. Klik på linket nedenfor for mere information om regionen kodning:
Produkt noter
Join Giorgio Tsoukalos and other ancient astronaut theorists as they continue their search for evidence of extraterrestrial contact in the distant past as well as the present. From Tibet, Chile, and the Mediterranean to the iconic UFO site of Roswell to the Pleiades star cluster, this season of ANCIENT ALIENS® travels to the far reaches of the globe and beyond to delve into mankind's origins, mysterious government organizations, and the secrets of the universe - all in an effort to finally find out if we are in fact alone in the universe, or if extraterrestrial forces have been aiding and guiding us all along.
Beskrivelse
| | |
| --- | --- |
| Titel: | Ancient Aliens: Season 13 |
| Genre: | Special Interest-Documentary, TV Sci-Fi |
| Studio: | A&E Home Video |
| Antal diske: | 3 |
| Attributter: | Widescreen, Dolby, 3 Pack, Subtitled |
| Udgivelsesdato: | 13-04-2021 |
| Media Format: | DVD |
| Bedømmelse: | TVPG |
| UPC: | 031398322627 |
| Oprindelige sprog: | ENG |
| Undertekster: | ENG |
| Lukket Billedtekst: | No |
| Løbe tid: | 686 minutes |
| Udgivelsesår: | 2020 |