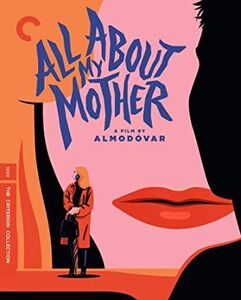 Preview
All About My Mother (Criterion Collection)
(Special Edition, Restored, Widescreen, AC-3)
Udgivelse

28-01-2020

Film og TV Genre

Drama, Foreign-Spanish

Media Format

Blu-ray

Vær opmærksom på. Medmindre andet er angivet, alle BLU-RAY er REGION A og alle DVD er REGION 1 kodning. Før du køber, Sørg for at dit udstyr kan afspille disse regioner. Klik på linket nedenfor for mere information om regionen kodning:
Produkt noter
This Oscar-winning melodrama, one of Pedro Almodovar's most beloved films, provides a dizzying, moving exploration of the meaning of motherhood. In an instant, nurse Manuela (Cecilia Roth) loses the teenage son she raised on her own. Grief-stricken, she sets out to search for the boy's long-lost father in Barcelona, where she reawakens into a new maternal role, at the head of a surrogate family that includes a pregnant, HIV-positive nun (Penelope Cruz); an illustrious star of the stage (Marisa Paredes); and a transgender sex worker (Antonia San Juan). Beautifully performed and bursting with cinematic references, All About My Mother is a vibrant tribute to female fortitude, a one-of-a-kind family portrait, and a work of boundless compassion.
Beskrivelse
| | |
| --- | --- |
| Titel: | All About My Mother (Criterion Collection) |
| Genre: | Drama, Foreign-Spanish |
| Stjernespækket: | Cecilia Roth, Penélope Cruz, Marisa Paredes, Candela Pena, Antonia San Juan, Rosa Maria Sarda, Fernando-Fernan Gomez, Fernando Guillen, Manuel Moron, Juan Jose Otegui |
| Direktør: | Pedro Almodovar, Pedro Almodóvar |
| Studio: | Criterion |
| Attributter: | Special Edition, Restored, Widescreen, AC-3 |
| Udgivelsesdato: | 28-01-2020 |
| Media Format: | Blu-ray |
| Bedømmelse: | R |
| UPC: | 715515240611 |
| Oprindelige sprog: | SPA |
| Undertekster: | ENG |
| Løbe tid: | 101 minutes |
| Udgivelsesår: | 1999 |